FDB Multilex Factsheet
The UK's leading drug database and e-prescribing decision support solution.
The FDB Multilex drug database provides comprehensive coverage of UK medications and integrates into leading clinical systems to support safer prescribing and dispensing at the point of care. When integrated into electronic health record (EHR) and e-prescribing systems, FDB Multilex supports active clinical checking against a patient's medication record, giving clinical staff, the support and information required to safely prescribe the most appropriate medications. The real-time clinical alerts and warnings highlighted within the prescribing process assist in reducing the risk of medical errors.
FDB Multilex is the UK's leading active medication clinical decision support solution, deployed in over 10,000 sites and across a wide range of healthcare settings including primary care, secondary care and community services.
The FDB Multilex factsheet covers the key solution benefits:-
Improve Patient Safety – medication alerts and warnings
Reduce Dosing Errors – dose checks and predefined doses
Aid Clinical Efficiency - medicines information at the point of care
Aid Interoperability - NHS Dictionary of Medicines and Devices (dm+d) and SNOMED CT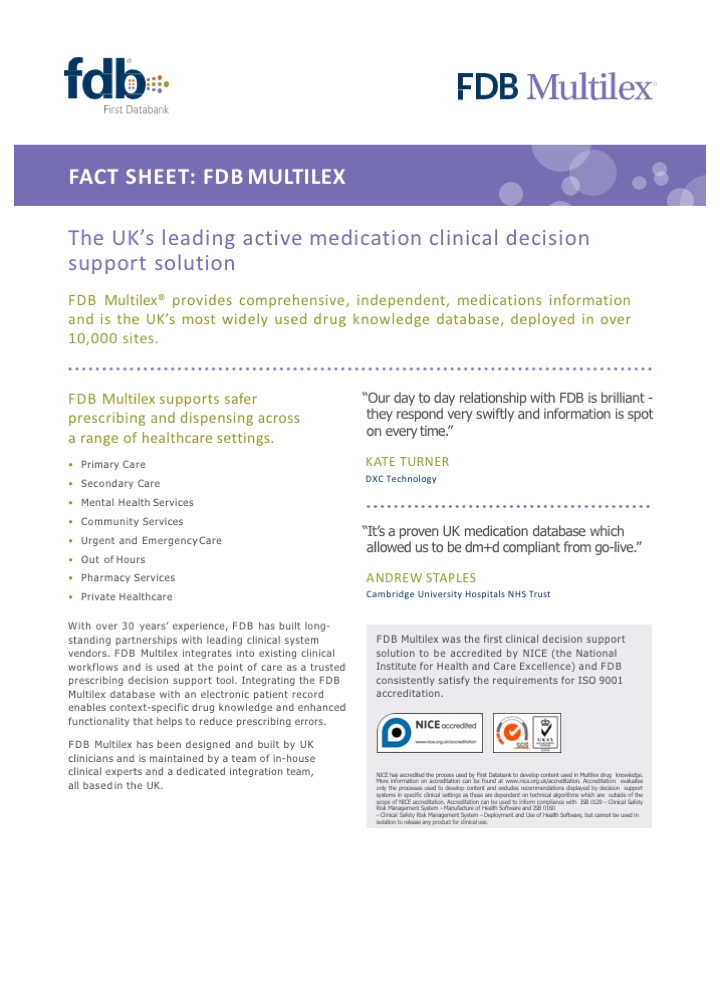 FDB Multilex is researched and authored by a UK team of in-house clinical experts and was the first clinical decision support solution to be accredited by NICE (the National Institute for Health and Care Excellence), recognising the high standards followed by the editorial team
Download the free Multilex factsheet today to find out why FDB Multilex is the UK's most widely used drug database and e-prescribing decision support solution.